Shadow of the Devil
My Encounter with Criminal Groups at Dalhousie University
I count myself among those who try their best to be aware of their surroundings, and who try to find answers to the bigger questions of life. Like many idealistic students, I believed I could use my abilities to solve larger human problems, such as war and armed conflict.
Early on, I had become aware of organized criminal groups who were burdening the rest of humanity with relentless war and conflict. They operated from the safety of Western countries but were definitely not affiliated with any particular government, intelligence agency or organisation. They were organised, and could be considered an organization. But one that is completely non-documented in mainstream media and history texts. Some "fringe research" has been done on them, by authors such as Anthony Sutton and Fritz Springmeier.  Some authors point at certain formal secret societies. Some call them the Illuminati. I will refer to them here as The Powers That Be.
When I enrolled in Dalhousie University in 2001 to study History, I chose to use the resources made available to me to further investigate the role of the Powers That Be in modern conflict, in particular, the two World Wars. I intended to anonymously publish my investigations online. But it soon became clear to me that Dalhousie was not a safe place for such activity. For example, I came across a Professor whose course was designed to brainwash students into believing that global American military intervention was the solution to all crises. A little investigation revealed that this Professor had ties to private think-tanks, and near-identical courses were being deployed in several Universities across North America.
When things would later get ugly at Dalhousie, I had a hard time accepting the fact that I would become a target of the Criminal Elite. At that time, I had no public life. I had no website (and never intended to have one). I had no intention of writing actual books on the Criminal Elite whatsoever. I was just grappling on a personal level, trying to better understand what was going on with the world. Yet, even such private inquisitiveness was of such great consternation to them. I was aware of the presence of a Criminal Elite, but I did not believe that they had the time and resources to pro-actively hunt down opposition on a search and destroy basis. It would be many years later that I would understand how I stood out as an anomaly among my fellow students, who were too conditioned and domesticated to think beyond their role as members of a server class. In short, my situation in Canada was analogous to that of a Free-Tibet activist in the People's Republic of China.
Threats made at Dalhousie
Till this time, I had assumed that I was a free man. I had taken meticulous care that my hobby of investigating The Powers That Be never intersected with my academic life such that I would end up stepping on the toes of the Criminal Elite. I was leading a normal life in every respect. That was about to change when I enrolled in a course on the Second World War. I will refer to the Professor of the course as Dr. Magog.
Dr. Magog took an inordinate interest in me, and in particular, my historical sources. He knew dead on that I was not his usual fare of students. He wanted to know more about me. My final essay for this class focused on the role of the Rothschild family in the Soviet Revolution of 1917 and the subsequent World Wars. As I have said earlier, I always made sure that my interest in investigating The Powers That Be never raised any alarms among the University faculty. But this time, I loosened up after Dr. Magog encouraged me in every possible way, indicating that he was keen on knowing what I knew. After submitting the final essay, I received a note saying he wanted to talk to me in his office. Behind the closed doors of his office, he proceeded to make a thinly veiled death threat, and urged that I drop all research into the role of the Rothschilds in the World Wars. He proceeded to say that I had a brilliant future ahead. But I had jeopardized it. He then made racist attacks on my ethnicity and culture, and attacked my religion, calling the Prophet of Islam a pedophile. I felt that he was trying to bait me into saying something that could be construed as Anti-Semitic. Since I am not naive enough to blame Jews, I urged him to be specific about what disturbed him so much about my essay. He could not give a reasonable answer. Throughout the conversation, I felt he was not the only one listening, and that he was being prompted on what to say through some kind of earpiece. It took some time to sink in. Here was a man born a Communist country, groomed in Soviet institutions and whose activities in Canada were questionable, telling me (a born Canadian) that my days as a free citizen were over. It would be many years later that I began to make out the outlines of an invisible class system. Apparently, Prof. Magog represented a class of people whose job was to "manage" the Canadian "server" class.  The job of the server class was to structure their lives around surrogating for The Powers That Be, and even fighting their World Wars. While the server class was comfortable in engaging in wars and violence for their Criminal Elite, the same Criminal Elite never faced a whimper of revolt from them, as history bears witness.
The next morning, as I walked into the University premises, I noticed some senior members of the Faculty of History lined up to see me. Though they did not make any contact, I could tell that they were not happy. I also became aware that my essay had been illegally copied and circulated among them. Around that time, I could sense a criminal apparatus swinging into action behind the scenes. We received a gruff and angry phone call from the Fire Department saying that we were going to be billed hefty fines for a false alarm emanating from our property. Apparently, someone was rifling through confidential law enforcement databases, in the hope of digging up some dirt. In their hurry, they forgot to note that we no longer owned the property in question when the false alarm happened. A parent received an immediate notice to show up for jury duty for an entire month (which is very odd). But in their hurry, those who mailed out the notice forgot to notice that the parent was not eligible for jury duty. If this is the reality of how jurors are selected in this part of the world, imagine how easy it would be to rig a trial.
I could not understand how a simple essay by an undergrad could cause such consternation. The essay was about the role of private bankers such as the Rothschilds in the two world wars. I had included evidence from historical texts that indicated that financial interests had directed the war such as to expand Soviet dominion over Fascist territory in the West and Japanese territory in the East. It was a logical conclusion supported by dozens of scholarly sources. For those of you who still believe that the Soviet Union was run by ubiquitous "Russians," let me update you; The Soviet Union was a modern-day colony of powerful interests based in cities such as New York and Calgary. Think of it as colonization 2.0. In a follow-up email, Dr. Magog tried to make a groundless claim that the Rakovsky document (which my paper drew reference to) was fraudulent. Even the most qualified historians cannot make such a claim without years of research to back their claim (and none have so far).
The reality of my actions would sink in years later. I had been investigating The Powers That Be since I had learnt to write. But my fellow Canadians were far behind. They were content with their role as surrogates, best evidenced by the fact that they fought two World Wars for The Powers That Be (while never even making a whimper of resistance against The Powers That Be). While they may call themselves Christian, even if the Christ were unlucky enough to show up in these parts of the world, he would be immediately turned over the Criminal Elite (and the new opening for the position/job of Judas would probably get flooded with applications). Instead of exploring and floating their own ideas, they were in University to "receive" ideas and indoctrination from creeps such as Dr. Magog and they had already structured their lives around surrogating for the Criminal Elite, directly or indirectly. I had raised an alarm among the criminal interests at the heart of the University. To them, I was someone who had managed to get past all the barbed wire fences of disinformation. And therefore, I was an object of interest to them.
The Cabal at Dalhousie
Since Dalhousie is publicly owned, the idea of a Cabal running it sounds far-fetched to the outsider. But during my years at Dalhousie, I managed to get a bird's eye view of how The Powers That Be hijack and operated innocent looking public institutions in Canada. When The Powers That Be came out in full force against me on campus, they forgot that they were revealing a lot about themselves in the process too. And I made extensive documentation about everything I saw.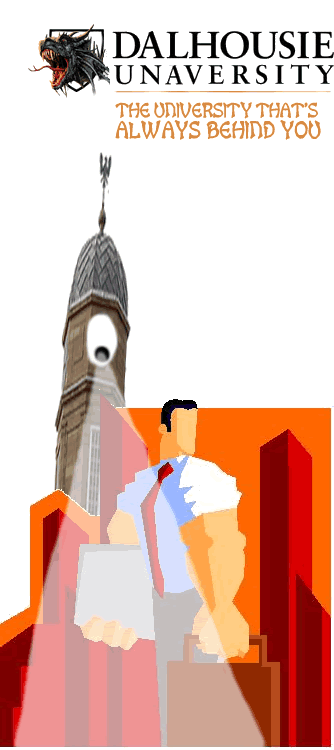 Dalhousie University is one of the largest publicly owned post-secondary institutions in Eastern Canada. With its sprawling campuses in downtown Halifax housing eleven faculties, Dalhousie University is a monument to the Canadian taxpayer. But once you dig deeper, you come across the familiar "Emperor's Clothes" scenario that you find in large institutions dominated by tiny cabals. For example, Dalhousie will constantly try to milk the idea that Dalhousie University has been ranked number one in the world (outside the United States of course) for "the best place to conduct a research career."[1] For most new students entering University, research usually doesn't start until graduation is completed. For undergraduates, Dalhousie offers unique nightmares, such as packing 300 seat auditoriums for a single class. Never mind the fact that the majority of students do not come to University for "research." They come for a graduate degree. Tuition in Nova Scotia may still be the highest in Canada, as it was back then. And tuition for Dalhousie's med students may still be one of the highest in the country.[2] This is the achievement of a Student Union that tiptoes behind the Cabal running the University, rather than representing student interests (Tuition is only of issue to the server class working class students, not members of Cabal families). Back then, most executives of the Dalhousie Student Union were not enthusiastic about supporting a freeze in tuition.[3] While Dalhousie gouges large amounts of public funding and student tuition, its output is far from substantial. Macleans Magazine ranked Dalhousie #13 (Canada-wide) in 2004 and 2003, in the medical/doctoral category.[4]  This is supposed to be the stuff Dalhousie University is good at. In a "law onto itself" response typical of a small-town mentality, Dalhousie responded by joining a group of Universities boycotting Macleans future surveys.[5] My suggestion for potential students is to avoid Dalhousie unless circumstances confine them to Halifax.
The views, ideas and studies officially touted at Dalhousie appear to be more in line with private interests and cabals rather than the Canadian public. For example, on 17th October 2005, Dalhousie University sponsored a lecture titled "Towards a New Global Order." To quote, "This year's Killam Lecturers address the most urgent question facing our planet today – how can we ensure that life on Earth is sustainable over the long haul?" Such verbiage is usually a strong indication of Cabal activity (The Powers That Be see themselves as overlords of the planet, and love making decisions concerning their surrogate populations).  On the other hand, Steven Staples of the Polaris Institute was invited to speak at Dalhousie by a local antiwar group (2nd February 2006) about the Americanization of the Canadian Army, only to be heckled and questioned about his sources. The Centre for Foreign Policy Studies counter-attacked with another lecture, "The Neccessary Americanization of Canada's millitary."
Trying to Move On
While I continued to pursue my career at Dalhousie, a full-fledged covert war swung in motion against me. I had to abort my plans of pursuing my Honours because the Professor who had agreed to be my mentor for my research thesis, was continually harassed until he was forced to leave the University for another country. Some Professors affiliated with the Cabal tampered with my grade whenever they could. On one occasion, I noticed that courses that I had enrolled in had been dropped from my secure online banner account. This could only have been possible with the collusion of the University IT department, or the President of the University. The stress associated with dealing with a hostile but  hidden enemy on a fulltime basis caused some of my grades to plummet. But I graduated, even though my graduation was delayed for a full year on the basis of a technicality.
I was being stalked not only on campus but also when I conducted my private affairs in the city. My home Internet and email usage was being monitored. Strange people were showing up, trying to gain my confidence. Girls whom I had never known before were popping up like one of those deodorant advertisements. Some of them were the children of elitists. When I started snubbing them, Muslim girls (complete with hijabs) were sent my way. When that did not work, children were trotted out (Lets' hope these aren't the children snatched by Social Services). I later learnt why they put so much emphasis on sexual entrapment and pedophilia. Apparently, people in higher circles of power are controlled through blackmail of a sexual nature, which is some kind of cultural speciality for these people. It is not unusual to see alleged pedophiles in positions of power, as such people are more susceptible to manipulation and control. What I found even more disturbing was that well to-do normal-looking female acquaintances could be co-opted into entrapment activity upon receiving inducements. I was more or less a stranger to them, and yet I was the recipient of such malevolent behaviour. It made me wonder what they do to people dumb enough to give them a relationship. Such people are a hazard to those who take relationships seriously.
Involvement of Canadian Intelligence
Strangers at Dalhousie University and the local Muslim community started acting clingy, as if money was  being showered to gain my confidence. One such acquaintance who was relatively poor, got flooded with expensive electronics, gift wrapped for him. After that, his demeanour towards me completely changed. On one occasion, he insisted that he needed my cell phone to place a call to Yemen. Realising that this could be a trick to link me to some "terrorist" in Yemen, I started to avoid this individual. He then showed up with $10,000 in cash, which he wanted to deposit into my bank account for "safekeeping," even though we had met only a few times.  This is a trademark ploy of planting evidence of a money trail, used to connect people to unscrupulous individuals and even terrorists. During the course of the arguments, I discovered that he even knew which bank and branch I used for banking. I noticed that the moment I stepped away from him, he was being prompted by someone on his cell phone. Here was my Government, working with criminal interests to frame me for terrorism!
I sought a lawyer as it became clear to me that the University Student Union as well as local police were hopelessly compromised. This is best evidenced by the fact that the Dalhousie Gazette, which is run by the Dalhousie Student Union, had elitist students moonlighting as editors, who made indirect references to me in their writings. (This is a technique used in stalking, to remind victims of their powerlessness). One such article contained a mock-up of the letter the History faculty had given me, announcing rejection of my proposal for pursuing Honours. But what disturbed me was that it also included the reactions of my parents at home, accurate to every detail! It appears that not only was my home being bugged, but translated transcripts of private conversations were being supplied to criminal groups at Dalhousie.
I obtained police grade counter-surveillance equipment (TSCM) to check for bugs in my home. When turned on, it lighted and blinked like a Christmas tree. The equipment revealed an unusually high RF saturation inside my home, and in my car when the ignition was turned on. It made sense as to how they were staying more on top of my life than myself. Such high degree of surveillance would also require the services of translators since I don't speak English at home. And considering the fact that the operation has been running for more than ten years, this private and illegal vendetta of the Criminal Elite may have cost Canadian taxpayers well in excess of one million dollars. But I suppose that is what taxpayer funded resources are exactly meant for. On the other hand, after the drama at Dalhousie, I was informed by Revenue Canada that I had been "randomly selected" for a full disclosure assessment of taxes I had filed. This was cleared up when I produced all the required paperwork, but be warned that if the Criminal Elite come after you, this is probably going to be the first front they will open against you.
When I took a trip to India, I noticed that I was being followed around by a carload of plainclothesmen. Since Indian bureaucracy is corrupt to the bone, nothing remains secret. I used my contacts to find out what was going on. I learnt that the surveillance was being done on behalf of "Canadians," and that money was being wired for these operations out of Calgary.
If I were approached by Intelligence asking to spy on a stranger, I would decline because firstly, I did not know the person and his side of the story and secondly, I would not know how the information would be used. But I noticed that most of my fellow Canadians had no such qualms whatsoever. And unlike the citizenry of East Germany, they faced no threats whatsoever if they refused to comply. Neither were they compelled to accept inducements due to hunger or poverty. From my estimate, hundreds of people had been contacted regarding me, and had been coopted into conducting various illegal activities in the process. And yet not one person considered filing a police report on the unusual activity going on. Despite the fact that Canada is a nanny-state, and people have the tendency to habitually tip off authorities, sometimes even maliciously. For example, police have been called on me because I was photographing some natural scenery. Apparently they excel at passive aggressive behaviour, not good citizenry.
Attempts at Sexual Entrapment
I did an entry level job for some time. I once overheard superiors talk in hushed tones about me, as if I were someone of extreme importance, and that a lot of money was being offered to gain my friendship and confidence. One night, while leaving the work premises at midnight, I noticed a car following me. The driver was a female supervisor had been making unwanted sexual advances for some time. I was forced to leave the job after the company appointed this female staff member as my supervisor, despite my protests.
I later enrolled in Saint Mary's University, pursuing a Masters degree. I hoped that changing Universities would protect me from the Criminal Elite at Dalhousie. This time, I was careful not to pursue Arts and Social Sciences. But it seems that whatever evil was following me at Dalhousie had also managed to find me at St. Marys. And this time, even foreign nationals were involved (The Calgary based ruling elite of Canada have a strong presence in certain oil rich Middle-Eastern countries, as well as the nation of Germany). In the fall of 2010, I was doing a research paper with a German student, who was the only other student in my class. Other students had suddenly dropped out, and it was unusual that University administration would allow such a class to continue. She suddenly became very touchy-feely. On one occasion, she casually asked what exactly was the nature of the research I had done on Germany, which had got me in such trouble. I had never disclosed any of this to her, and neither was it online. Sexual entrapment is fairly ubiquitous among Intelligence Agencies. And as Julius Assange would regret, it is fairly devastating for the intended target. It is important to note that at this time, I had literally cut off all interactions with females as a security precaution. And therefore the only females being pushed into my life at this point were classmates, TAs and other assorted garbage, whom I could not avoid because of my status as a student.
I also get blank calls from a blocked number whenever I conduct online research and publication related to the 9-11 Truth Movement. For this to happen, my ISP (Eastlink) would have to be forwarding all aggregate data pertaining to my private online activity to hostile third parties.
I briefly worked a blue collar job, where my co-workers came from the poorer stratum of Canadian society. Up, here, word spread that a lot of money was being promised to gain my trust and confidence. Co-workers would take turns trying to gain my friendship and trust (This was a place where nobody talked to each other). One co-worker even brought along her spouse to try his luck (as if it were a lottery). Like a pack of hyenas, they even started getting aggressive when their efforts failed to pay off. This exposed me to a new facet of Canadian society. Here were people who did not know who I was, or what my story was. And obviously, they were too dumb to make sense of my writings (if they were to ever read them). Yet, I was fair game to them because their Criminal Elite promised them inducements. No wonder so many of them got marched to their deaths in wars and World Wars. I have to say that in this respect, I found them to be more pathetic than some of the very poor people I have met in other parts of the world, who sometimes have to engage in such activity under threats of violence. In the West, some people have a disturbing tendency to convert each and every situation/interaction into opportunity, and they have an annoying smugness about it. They see people as objects and tend to ration out friendliness depending on how useful they find you. Those aware of my situation initially regarded me with irritation and annoyance, and some even blamed me. But once they learnt that inducements were being offered, their "gold-digger radar" got tripped up and they suddenly became desperate for my friendship, almost like some kind of Pavlovian response. I soon realised the necessity of keeping a low profile because knowledge of my situation was apparently tripping up their "gold-digger radar." At first, I assumed I was being hit by bad apples. Then I tried to reason that maybe I was dealing with a regional phenomenon (which the Maritimes is infamous for). It took me some time to accept the emptiness of their souls.
People come to North America expecting to find industry, resourcefulness and expertise. Instead, some places have nothing to offer except piggery. Typical indicators that you are in pig-territory are paper-pusher professions, an all-pervasive banking industry, an overdependence on social services and substance abuse. There are basically two types of piggery. The first is the lowlife type, which involves the pursuit of a self-destructive lifestyle, almost always involving substance abuse. The second type involves inflicting destruction on everybody else, by turning piggery into an elite profession. A perfect example are patent trolls and legal sharks. This type of piggery is highly lucrative, as there is a strong customer base of passive-aggressive people. In the city of Halifax, almost half of the billboards belong to accident-injury attorneys. Since piggery involves surrogating oneself completely to the Criminal Elite, those that practice it tend to be conscious of the fact that they have no value, real expertise or industry to offer. This can make them very insecure and paranoid when it comes to foreigners or even foreign-looking people. As they fear that others could easily replace them in serving the same Criminal Elite (or in duplicating their piggery). Therefore if you are "foreign-looking" or have a "foreign sounding" name, you will be regarded as competition, even if your life or career does not necessarily intersect with theirs. And thus you become entitled to free racism and xenophobia.  In Halifax, I noticed one neighbour of mine was a racist. I believe he was approached by Intelligence and was induced into provoking me. Soon junk furniture started appearing on the property boundary, and even a Christian statue was placed on the property boundary (what next? Burning crosses?). Racist taunts and catcalls started emanating from his property. I have come to accept the fact that most people in this place cannot even relate to my situation. As they grew up practicing piggery, they structured their lives around serving the Criminal Elite, the wealthy and the powerful. Therefore it makes no sense to them why someone would question the Criminal Elite. And anyone who does so is jeered as a kook, a conspiracy theorist and a crazy.
Who is the Cabal?
While The Powers That Be have been careful to cloak their real identities, I have developed a fair idea of who they are. In Halifax, there is a local group of them, clustered around Dalhousie University, but extending into other public institutions and Universities as well. This group coordinates with the "mother" group that operates on a national/international level and has illegitimate access to the resources of Canadian Intelligence. They appear to be based in Calgary. Coincidentally, the Rothschilds also operate out of Calgary in Canada. The Rothschild owned Shell Oil is a major player in the Alberta oil sands (and by default, Canadian politics). The Rothschild business model for Canada consists of imploding crown corporations and then purchasing them at a firesale rate through their connections. A good example is the acquisition of AECL's famed CANDU nuclear reactor division by SNC Lavalin. The Conservative Party of Canada best accommodates the business and military needs of the Rothschilds. And the success of this party has been assured by the controlled implosion of all rival parties.
The indication that the Rothschilds may be directly involved in my persecution came during my final years at Dalhousie. I had developed a rapport with a tutor at Dalhousie. When The Powers That Be came to know about it, he was immediately flown to Calgary and given a dream job in Shell Oil. After that, he attempted to match me up with a female Intelligence operative. This operative popped out of nowhere and invited herself into my tutoring sessions. I would later notice that some of the students who spied on me on a fulltime basis were employees of CIBC. CIBC is one of the three major private banks in Canada that back Canadian currency. My research that had caused such consternation at Dalhousie had documented the role of the Rothschilds in backing both the Nazis and the Soviets in the World Wars.
Is Canada Involved in Terrorism?
I often wonder whether my investigation into the Rothschild role in the World Wars would alone warrant such retaliation from Canadian Intelligence. Maybe it could. Or maybe it was also due to the fact that earlier in my life, I had unwittingly blown apart a rogue Canadian Intelligence Operation. This was a fairly sophisticated operation and a lot of resources were used for it. Prior to the threat made by Dr. Magog, I had stumbled across a reactionary Al-Qaida website on the Internet (http://www.jihadunspun.com; it is now defunct). The purpose of this website was to provide propaganda for the War on Terrorism by producing anti-Western "jihad" literature in the English language that called for attacks on Western civilians, thereby justifying the War on Terrorism. I noticed a lot of anomalies. For example, the website tried hard to mimic a genuine Al-Qaida website. When the website surfaced, several genuine Al Qaida websites were shut down by British Intelligence, and their domains were redirected to jihadunspun. In addition, jihadunspun was strictly against seeing 9-11 as a conspiracy, and instead tried to take credit for 9-11 on behalf of Al-Qaida. The website was being hosted out of British Columbia, Canada. I contacted BC premier Gordon Campbell about this. He said he would look into it but the website continued to be hosted out of BC. I collected some background information on the website and posted my conclusions anonymously on 8th August 2003 on the now defunct Libertyforum.org. The post received upwards of 60,000 hits in a span of a few days, and was linked up by major alternate news websites. The controversy about the website snowballed into mammoth proportions, when the owner of the website identified herself as Beverly Giesbrecht, alias Khadija Abdul Qahaar (alias Dulcy Israel alias Bev Kennedy alias Bruce Kennedy alias Paul Morris-Read). Beverly thought she had made a smart move, by becoming the human face of the website and pretending to be a convert to radical Islam. But even more eyebrows were raised when holes in her story were discovered. Beverly was desperate to find out my true identity, and managed to obtain my IP address from Libertyforum. Thereafter, I noticed unmarked vans around my residence. But it seems she had mistaken another Libyan youth who had lived in the apartment complex for me. And for the time being, I was safe. I then made the big mistake of following up my original posting a year later on Libertyforum using a University computer at Dalhousie.  By then, Prof. Magog has started taking an interest in me, and I believe my Internet activity at University was being tapped. I believe my enemies at Dalhousie passed on my personal details to Beverly. Immediately after that, I noticed an escalation of persecution activity that could only be attributed to Canadian Intelligence. The last I heard about Beverly was in 2008. It was reported that she was abducted in Afghanistan, after trying to infiltrate the Taliban presumably on behalf of Canadian forces there. A video was released of her, pleading for her life, with knives being waved in her face. Although it may never be publicly acknowledged, it appears that the Canadian Government coughed up millions of dollars to free her in June 2009. In May 2011, we were told she had died in Pakistan. And jihadunspun went offline. But this appeared to be an all too convenient exit strategy.
In June 2010, "Al Qaida of the Arabian Peninsula (AQAP)" released an English language newsletter, INSPIRE. Many people doubted its authenticity. At one glance, I felt that Beverly was back from the dead. There was way too much similarity in writing style, content, graphical preferences and ideas. Interestingly, this time, there were way too many references in favour of the so-called Arab Spring. Canada is an active participant in the so-called Arab Spring on all levels, diplomatically, militarily, and media-wise. In October 29th 2010, a terrorist plot to blow up civilian aircraft was uncovered. They intended to use ink cartridges filled with explosives in UPS and FedEx parcels mailed from Sanaa to the United States. Al-Qaeda in the Arabian Peninsula (AQAP) has claimed responsibility for the plot through a special edition (November 2010) of INSPIRE magazine. They included photos of the bombs and the materials used to substantiate their claim. There is no denying that INSPIRE magazine had a major link to the plot. It appears that the plot was foiled after Saudi intelligence was tipped off. An alternate explanation is that the bomb did not get onto the intended passenger plane, and instead ended up on board a Qatar Airways plane. And that the operation was aborted when the perpetrators discovered their mistake. Reports indicate that a female was seen depositing the suspect parcels with UPS and FedEx in Sanaa. Was this Bev? For those in the know, this wouldn't be the first time Canada's Criminal Elite have resorted to terrorism. A few years back,  Swissair flight 111 crashed off the coast of Nova Scotia. An important player in the internal politics of the Saudi Royal Family was eliminated in the crash. One of the lead investigators, Tom Juby was persecuted by the RCMP and forced to resign, after refusing to redact his claim that there was a strong possibility that a bomb was on board. Another suspicious case is that of Canadian-Syrian Maher Arar. The Canadian government moved heaven and earth to free him from a Syrian prison, even though they don't usually care about Muslim citizens. On 19th January 2009, FBI interrogator Robert Fuller testified at a hearing before Canadian Jihadi Omar Khadr's Guantanamo military commission that Khadr claimed he saw Arar at a Kabul guest house run by Al Qaida. If this was indeed true, then both the Canadian and American governments protected Arar from the implications. Later, there were attempts to supplant Arar and his wife among the Canadian left. I know that most Canadians will find it difficult to accept that their so-called public institutions may be involved in acts of terrorism. But this may only be the tip of the iceberg. There is reason to believe that the criminal regimes that dominate the oil rich countries of Indonesia and Nigeria are run out of the city of Calgary.
One student versus the Cabal
In retrospect, there were two big mistakes that I made when I entered Dalhousie University in 2001. I would urge independent minded students entering Western University to take care to avoid them. The first mistake was seeking intellectual bliss in the University environment. A place like Dalhousie University calls for dealing with junkyard dogs, not intellectuals. I advise new students to completely avoid the Arts and Social Sciences and stick to strictly technical disciplines in Western University. The problem with strictly technical disciplines is that they attract technocrats and robot types. But again, this is what makes these disciplines safe. On the other hand, the Arts and Social Sciences require expansive thinking and interpretation. Which means that these areas are more extensively patrolled by the Criminal Elite. I am not suggesting you sacrifice your interest in these areas. Rather, never let your interest in these areas intersect with your University life. It's simply not safe. The second mistake I made was mistaking my fellow Canadian students and faculty to be free people. When you assume that most people around you are "free," you expect them to think and act in a certain way. But that was not the case. In my case more than a hundred people knew exactly what was going on. And for them to not only remain silent about illegal activity but to try to seek benefit and opportunity out of my situation speaks of societal failure. Unlike me, They never seemed to get into any trouble (other than sex, alcohol and plagiarism) because they have structured their lives around serving the Criminal Elite. This raised a perplexing dilemma. If my fellow Canadians were not the "free" people they were labelled to be, then what are they? If free people do exist here, it seems I entirely missed them.
I realise that I cannot overcome an enemy that operates within Canadian public institutions. But I have obtained considerable knowledge on how criminal interests operate in this country, which I intend to share. I have written a little booklet for students caught in a similar situation, and for independent-minded students entering Western University (A Guide to Cabal Activity in Western University – The Dangers of Western University for Independent Minded students). While this eBook was prepared with my experiences in mind, it pretty much applies to Western Universities in general. This is a detailed guide on how to avoid detection by Criminal Cabals for all you independent-minded students entering University. This is basically a wish list of information I wish I had known before stepping foot in Dalhousie University.
As for the essay that started it all, it has now grown into a book, The World War Deception – How the two World Wars were staged for the creation and expansion of the Soviet Union. You can read it here. I have also written a fairly detailed account of the connection between Canadian Intelligence operative Bev Giesbrecht and the October 2010 cargo plane bombing plot.
On the plus side, if a single unarmed student could cause such consternation among the Criminal Elite, it only shows how shaky the ground beneath their feet is.  It's no wonder that the Quran compares the towers of their lies to a spider's flimsy web.
---
[1] Dr. Tom Traves, President of Dalhousie University citing the Scientist Magazine. There are many such publications. Email to all University students, Mon, 20 Oct 2003.
[2]  Ashley McCormick, Letter to the Editor, Gazette March 31 2005.
[3] Marco Chown Oved, "Most DSO Executives won't support tuition reductions," Gazette Sep. 29/ 138-04, page 11.
[4] Reid Southwick, "Maclean's rankings off the mark?," Gazette Sep. 29/ 138-04, page 5.